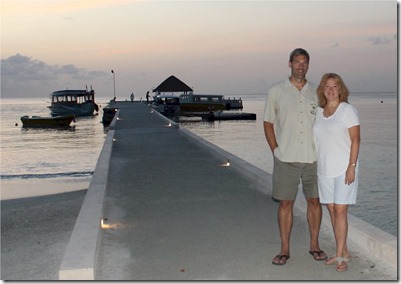 Going native. After visiting 74 resorts, one would think that we might go a bit native after a while. We have visited more Maldives resorts than any even Maldivian we have met (we are beyond the "that's a lot" response to the "that's amazing", but always followed by the observation "you must really love the Maldives" #true).
Summer Island was a superb way to start our latest Maldivian adventure. After nearly two decades of visiting this tropical paradise, our arrivals now feel like we are coming home. And Summer Island has a very down-to-earth, homey feel. It was smaller than I imagined it. At the reception end, the island is so narrow that you can hear and almost see the ocean flanking you on either side of the sandy path down the middle of it.
They say if you are looking for a good restaurant, bar or club on holiday, then find out where the locals go. And Summer Island is popular with the Maldivian's out for a special break. We met a few during our stay and our host, Alson, noted that during the celebration of Eid, the resort was at 100% capacity. Summer Island has an inherently Maldivian vibe. Ample heaps of soft, white sand on not just the beach and the paths, but also the reception, restaurant and lounges. Maldivian swings everywhere. A number of chickens roams freely so your breakfast egg station is truly free range, but also my host noted that they decided to let the birds roam free because it adds to the authentic native island ambiance where such poultry perambulation (my words, not his) is the norm.
One of the earliest resorts, it had a complete overhaul a couple of years ago modernising it and updating it. It's billed as a 4-plus star category which suits it just fine. It doesn't have lots of luxury amenities, but it does all of the basics exceptionally well – over water spa, big bed with soft linen sheets and mattress pad, outdoor bathroom, diverse and tasty buffet, infinity pool.
So many Maldivian veteran bemoan the trend of classic Maldives properties getting refurbed and then upgrading to an out-of-reach super-premium, but Summer Island bucks this trend. They have done a sterling job remodelling the resort from top to bottom, but have kept it a very affordable 4 star property. I would highly recommend it for a first visit to the Maldives (I recommend that people go to more modest properties for their first time even if they are multimillionaires, because if you start with the full-trapping super luxury ones, between the natural beauty of the destination and the extra [stimulation] of the resort amenities and features, there's almost too much to take in at once.
Simply stylish unpretentious paradise.