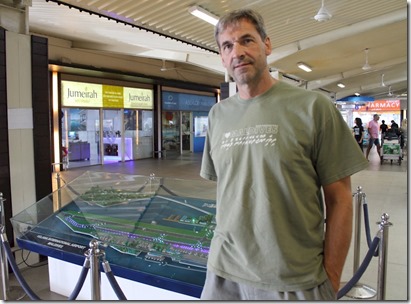 Welcome home! Tour 8 started with a few minors startles. Turkish Airlines changed our extra leg room seat we reserved…but they found us another one. We didn't see the resort rep when we arrived…but we got in touch eventually (we came out late due to a delay with Lori's bag). We had a couple hours to wait at Male Airport until the next transfer, but that didn't stop us from starting our holiday. We checked into the Plaza Premium spa for a shower, chair head-neck-back massage (50 Euros for 30 minutes), some refreshment and a general chill out. Topped off with a DQ strawberry milkshake (as well as a Lemon-Lime Artic Blast for the boat ride).
The spa and junk food amenities weren't the only thing happening at the newly renamed Velana Airport. The Maldives is doing a complete overhaul of the facility with a new runway and new terminal. So the site was buzzing with construction and new development. Above, I am standing next to a scale model on display at the main terminal entrance.
This trip will take us to yet another new atoll (Meemu, our 14th) as well as a return to Baa to check out some of the new properties there, and we will stop in at a few in the Male area as well. 8 new resorts in total (Summer Island, Finolhu, Amilla Fushi, Dhigufaru, Rihiveli, Medhufushi, Cinnamon Hakura Huraa, Olhuveli) bringing our total stayed at to 81 (and total visited to 85).
I will also be doing my traditional micro-blog report on the TripAdvisor Forum with a snapshot profile of the following key points of each resort and stay…
Ambience (first impressions and overall feel)

Snorkel Spotting (what I saw snorkelling)

Favourite Food (served)

Weather (always a popular topic)

First World Problem (the most petty criticism I can find)

Most Reminded Me Of (comparing it to another resort)

Learned Something New (fun fact of the day)

Welcome Drink

Pina colada test (one of our acid tests as this simple treat varies so much from place to place)
Bring on paradise!