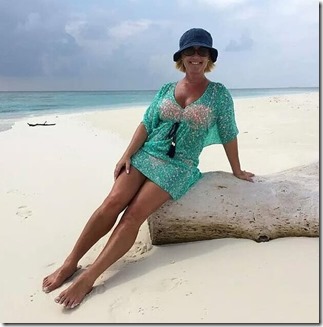 When I first launched Maldives Complete, I added a blog onto it almost as an afterthought. Working in the tech industry, blogging had become a quite popular information sharing tool and other forms of social media hadn't really hit the mainstream. People appreciated the resort database, but many didn't even know what a blog was. Now nearly a decade later, the world is awash with bloggers and micro-bloggers (the technical term for status posting on platforms like Twitter and Facebook is "micro-blogging"). Maldives resort marketing managers tell me they get dozens of requests every week from this swarm of self-proclaimed "travel bloggers" wanting to visit their resorts. Most are glorified "gap ya's" or "daddy's credit card" serving up the same old lifestyle porn. Pictures of sunsets and lagoons with carbon copy post copy gushing over the palm trees and pina coladas.
So I have a special appreciation for the authentic bloggers who actually know something about their subject and share it generously and expertly. Still surprisingly few such sites for Maldives resorts, but one I stumbled upon is Linda Lundmark's MaldivesBug site. Linda is a self-confessed "atoll addict" (like me) who has been visiting these islands in paradise since 1999. Her blog is a strong blend of writing, photos and videos.  She hails from the chilly Nordic and so offers an especially appreciate perspective on fun in the sun (from a home which doesn't see as much sun half the year)
If you are looking for a second opinion on resort overviews and the best in the Maldives, then check out MaldivesBug and her rich archive of resort reviews and information.
Linda kindly shared a bit of her nearly two decades of experience with Maldives Complete for this exclusive interview.  Today being National Day in Sweden seemed like an appropriate time to post it…
How many Maldives resorts have you visited?
About 40 resorts so far. And counting…… 😉
When did you first visit the Maldives?
In February 1999.
What was the first island you visited?
Kuredu. Loved it! It is a shock coming to the Maldives for the first time, I still get chills every time I land on Hulhule, but the colours, the sounds, the lush foilage, the people, the reefs, I simply could not believe such a Ppace existed. Not IRL.
What inspired you to take your first trip?
It was kind of a coincidence, as we were supposed to go to Thailand for 3 weeks in March, but my husband suddenly could not go due to work. On a short notice I dug out a last minute trip to the Maldives with Fritidsresor (Swedish branch of TUI). I have never looked back since.
What are the biggest change in the Maldives you have noticed since you have been travelling there?
The luxury race. In 1999 Komandoo and Filitheyo were actually considered "high-end". These resorts are still absolutely wonderful, but it does say something about the development. My first time on Kuredu I had no warm water in the shower and no AC, just a ceiling fan (noisy). Still, I thought it rather lush…Nowadays the luxury is beyond anything you can imagine and the cost has spiraled. I am slightly worried about that, but at the same time I understand why. If you have such tiny islands you have to get well payed/bed to have a sound business.
Which resort is the one most popular with the Swedish market?
So far it has been Kuredu, our big charter companies all sell trips there. But people are spreading out all over the Maldives to a greater extent nowadays, not least because of the Internet, making it possible to book yourself and do much more research.
There is no such thing as a "best resort", but do you have any pet superlatives (eg. best dish, best piece of décor, best service)?
I am constantly surprised that the resorts can be so different from each other. They are all lovely, it is just a question of finding the resort that fits your needs and expectations. That is where I come in. Good advice.
for beginners is a great choice! Just make sure to stay on the south beach (jetty side) in O resort or Sangu resort. You can be very active or completely relaxed on Kuredu. Fantastic for divers!
Baros for best service. I LOVE Baros. It is like staying at your friend's house. Very personal but never intruding.
Komandoo is amazing value if you want a couples holiday, no kids on the Island, fab house reef and really good food.
Huvafen Fushi

blew me away too, but that is not quite as…cost effective. 😉

Kandolhu in Ari atoll was a wonderful tiny surprise! Must be the prettiest resort Island anywhere.
Anything you think would be great for a resort to have or offer, but you haven't come across it yet?
Well… I cannot imagine being more clever than all the competent people working there but… I do Think that the system with seaplane transfers does create a bit of irritation at times when guests get sent to Male at noon and then have to wait in the heat until their Emirates flight at 23.55….not a great last memory of the Maldives. Hopefully this can be improved. Longer transfers are becoming more and more common due to more resorts being remote. I have been both far south and north and the domestic flight worked perfectly. Just time it to your international one.
Any advice for resort managers?
Keep it up! You are doing a WONDERFUL job!