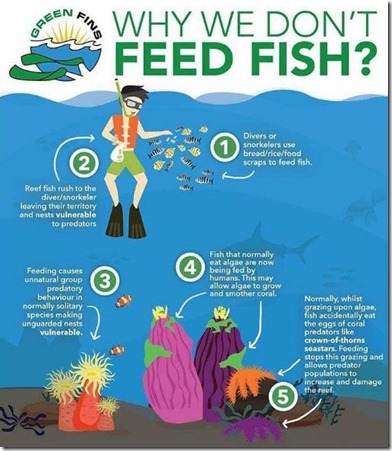 Killing with kindness. That is the extreme view of often completely well-meaning serving up of all manner of 'treats' to seemingly eager marine life all too eager to gobble it up. But short term wins (for the fish) can often have longer term losses.
World Environment Day today celebrates taking care of our world, but also raising awareness of the complexities of this complex eco-system we inhabit. Some of the worse fish feeding is the breads pilfered from the resort buffet (as the pictogram above describes). But even feeding fish scraps to scavenging fish like jacks and rays can pose problems. While the food itself might be fine for its digestion, etc., the practice can provoke adverse behaviour. Not just bad for the fish, but bad for people too (eg. they can start to associate food with humans and get more aggressive with humans thinking you might have some fish scraps tucked somewhere in your swimsuit).
There are no easy answers to making the world a better place. All we can do is try to learn as much as possible and respect the understandings that we do have. Just like the deep-fried Mars bars and doughnut-bunned burgers, not all meals are really that good for sealife.