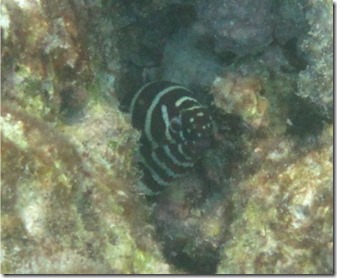 Probably second to the sharks for looking fearsome and scary are the ubiquitous Maldive morays. The snake-like giant morays are everywhere, but like the sharks are pretty apprehensive creatures and prefer to stay tucked safely in some rock crevice with just their ominous mouth protruding. Often the teeth filled mouth is moving looking like it is practicing biting you (but it's really just breathing). Occasionally, you will come across the more colourful Honeycomb variety. One snorkel, Lori even came across this baby (about 8 inches long) Zebra moray (see photo above) on the Kurumba house reef.
But we learned about the more extensive diversity of the Moray (or Muraenidae) family of eels during our visit to Maafushivaru. The Marine Biologist Nev held regular night snorkelings so you can see them when they are most active. You go out as sunset when there is still light and then watch the reef get darker as you bring out your torch to spotlight the nocturnal goings on. They have spotted the following morays on the house reef…
Giant moray

Yellow Margin moray (mostly at night)

Zebra moray (mostly at night)

Undulate moray

Honeycomb moray

Clouded moray

Peppered moray

White mouth moray
The house reef also features other eels as well including snake eels and cloudy eels.
We also learned that "Honeycomb Moray", "Leopard Moray" and "Tessellate Moray" and "Laced Moray" are all monikers for the same species, Gymnothorax favagineus.
"When you're at the Maldives with lots of eels in the sea, that's a moray. When you're at Maafushivaru and the eels are in view, that's a moray…" ♫♪