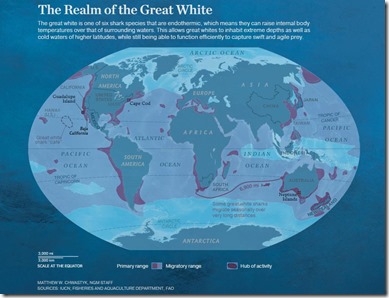 …for "X" marks the spot where in the world the Great Whites are.
Q: When was the last shark attack in the Maldives?
A: A year ago?
Q: Buzzzzz! No. The Maldives have never had a recorded shark attack on a human.
World Tourism Day today and the Maldives stand tall (much taller than its famously low elevation) among the titans of the travel industry as a bucket list destination. And for selachophiles, the bountiful populations of a range of shark species is one of the many oceanic attractions.
Still, for a few of the more aquatically apprehensive, all these dorsal fins can evokes a number of cinematic fears brought on by everything from Jaws to Deep Blue Sea and Thunderball. In fact, nearly all species of shark keep quite a distance from diving and swimming humans. When you spend some time diving and snorkelling with them, you quickly figure out how they are the scaredy-cats of the ocean turning and fleeing at the least disturbance.
In most cases, these cartoonishly portrayed "man-eaters" are the species "Great White". And if sharks' docile temperament isn't enough to re-assure you then, you can at least travel to the Maldives knowing that you won't encounter any Great Whites. Great Whites are found pretty much all over the world east-to-west, and north-to-south. But there is one place they don't hang out in and that's the Indian Ocean (except for a patch off the coast of east Africa).