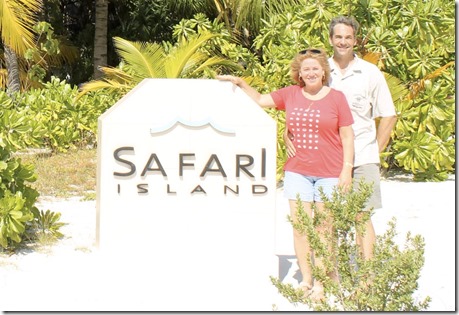 Many Maldives aficionados complain that all of the best islands are being snapped up for building (or re-building) super-luxury properties out of reach from the average pocketbook. Safari Island bucks that trend being a value priced 4 star resort on an exceptional 5 star island. In fact, Safari has actually gone in the opposite direction as the island that used to be the super exclusive Dhoni Migili. The lagoon is still filled with the fleet of 12 elegant dhoni yachts from its Dhoni Migili legacy. You can't book these, but you do get an experience or stay on one if you stay for 7 or 14 days respectively.
With Maldivian prices challenging guests' wallets so deeply, visitors need to choose what they want to pay for and what they don't. What you are not paying for at Safari is fancy food, fittings and furniture. Safari villas have simple bamboo furniture with the palm weave ceilings that embraces a simpler, rustic vibe.
The small island means that villas are pushed right up close to the water's edge. Ours was a Beach Villa and the water was lapping at our deck at high tide. Safari has another room category called a "Semi Water Villa" which are situated right over very shallow water right on the lagoon/beach edge.
The food is a good basic buffet victuals, but in the Maldives is it hard to go too far wrong with this option. Fresh tropical fruit like the ripe papaya that melts in your mouth (the best of our trip). Grilled reef fish caught that morning just yards away, local curries, with occasional chef special treat like the banana chocolate cake with vanilla sauce. How much more do you really need from a resort kitchen?
But the island itself is a remarkable patch of sea and sand. The beaches have some of the finest talcum powder soft grains I've ever wriggled my toes in (in the Maldives or anywhere else). And the house reef has to be a contender for one of the top 10 in the Maldives.
If you want 5-star Maldives "the landscape" without paying 5-star Maldives the luxury resort prices, then check out Safari Island.