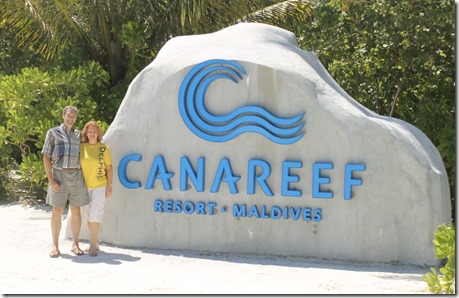 When is a big island not a big island? When it goes on and on seemingly forever, and yet you are never more than a few feet from the ocean.
Canareef is a have-your-cake-and-eat-it resort for people who want to be far flung from Male…but without high seaplane transfer costs (the domestic flight is about half the price). For people who want the intimacy of a tiny island with the gentle ocean sounds surrounding them…but with a bit of room to spread their legs and support a range of activity (the island is distinctively long and skinny giving it this big-but-small duality). For people who want quality comforts and cuisine…but without all the fussy chic design and gourmet palaver.
Canareef is just the latest in probably the most extended identity crisis of any resort. The island has been known as Herathera, Handhufushi, Amari Addu and now Canareef. But I think it has finally found itself. It really made an impression on us. We would rate it as one of the Top Ten Most Distinctive resorts in the Maldives. Distinctive in terms of memorable uniqueness.
All of its distinction stem from its sinewy length – the longest stand alone resort island in the Maldives. Its 5 kilometers seems to stretch it out endlessly, but it is very narrow so the ocean is never more than a stone's throw either side of you. So it still 'feels' like a tiny island with the gentle ocean acoustics in stereo surround sound. Despite its sizeable number of villas (271), you don't feel at all crowded. In fact, if you venture up the stunning Coral Garden (the best lagoon coral garden we have seen in the Maldives) at the southern most tip of the island, there are no villas and you feel like you are on your own deserted island expedition.
The restaurant offers nicely done food – lunch included grilled to order lamb steaks, pickled calamari, and stone fruit mousse. But the best part was the ocean view and the sand floor. Too many of the larger buffet restaurants opt for hard floors or enshroud their restaurant in the inner island away from the sea views (mind you, Canareef doesn't really have an inner island, it is so narrow). They also have sand floors at its reception and bars. I am struggling to recall a resort that uses natural sand floors as extensively as Canareef.
Canareef is a very affordable resort that so many people crying out for with all the creature comforts combined with an exceptional island.