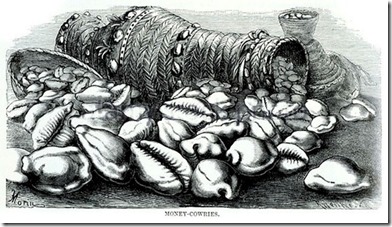 Long before the Maldives was the ultimate destination of the world's wealthy; it was the ultimate origination of the world's wealth. The Maldives was the veritable Fort Knox of the nascent global currency system.
The key to value is scarcity – gold, Bitcoins (based on hard to solve problems) – are all premised by the difficulty of counterfeiting because simply can't magic up more of the stuff easily. It turns out that one of the earliest forms of currency were cowries shells from the Maldives. They were quite distinctive in shape and look and back in ancient times you couldn't just waltz over the Maldives to gather up a few more.
Today being National Money Day is an apropos time to check out "Stuff You Should Know" which has a fine good account of Maldives cowrie currency in their podcast "How Currency Works" (mins 9:10 through 6:00 – the counter counts down to time left in podcast…thanks Isley).
I recently highlighted the Maldives' first archaeologist and one of the subjects she is investigating is this very area. Coincidentally (I means big time "it's a small world"), Haour and Jaufar explore the links of the cowrie trade between Benin, West Africa. "Benin" is now the name of the county neighbouring Togo to the east, but also the designation for the general area. In Togo's capital Lomé, I resided at the "Université du Benin" and my residence compound was called the "Village du Benin".
My time in Togo way back in 1980 was the earliest seeds of Maldives Complete. I was stationed there as an overseas correspondent for a firm doing travel writing. Hence, my initiation into research the obscure and fascinating in exotic destinations.
Below are a few of my mementos from my year there – a cowrie voodoo amulet (top), a cowrie bracelet (middle) and a cowrie money shell (bottom). Maybe these shells from the Grand Marche were my first contact with the Maldives over three decades ago?!