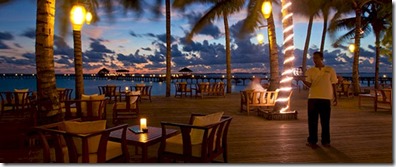 Researching yesterday's croquet piece, I was struck by the curious terminology of the game much of which seemed like a menu for exotic cocktails – Super Shot, Dambuster, Dolly Rush, Mangler, Octuple Peel, Straight Triple. It brought me back to our Sun Siyam Irufushi visit and wiling away too many hours at their "Water's Edge" bar.
Over 90% of cocktails there are custom recipes made by Anil. As our waiter commented, "No one wants to drink Coca Cola at the Maldives".
While I tend to stick to my ritual pina coladas during my resort visits I nonetheless always appreciate inventiveness. And Lori always seems to be interested in trying an unconventional concoction. I'll often sample hers and more often than not the cocktails are more oddball than highball.
But Irufushi was a truly refreshing change. Their "Shanghi #1" is a resort favourite which Lori tried (bracing with a bit of fizz and not too sweet). I had a "Login" which is like a tropical mojito"
If you want to indulge in the taste of the Maldives, Maldives Complete has scooped the recipes for their top three creations…
Sun Siyam Delight (Signature cocktail) – Vodka, Triple sec, Mango Liqueur, Fresh Passion Fruit plums, Fresh Mint Leaves, Mojito Mint Syrup and Soda Water. Shake with all the ingredients and pour into glass and add mint leaves. top up with soda water and stir well. it is very interesting refreshing cocktail.
All Rounder (competition winning cocktails) – Vodka, Peach Liqueur, Triple Sec, Fresh strawberry, Fresh Orange Juice and Grapefruit Juice. Muddle the strawberry and add all the ingredient and shake well. it is well balance, sweet and slightly better taste and refreshing.
Login (competition winning cocktail) – Vodka, Midori, Fresh Pineapple Juice, Fresh Lemon Juice, Mojito Mint and Fresh Basil Leaves. Shake all the ingredients with fresh basil leaves and strain into the glass. Serve on the rock and it is wonderful refreshing sweet herb cocktail.