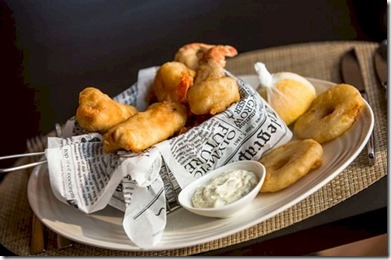 Lillian Gish and hairy nips.
If molecular cuisine is the epitome of epicurean epiphanies, then the opposite end of the spectrum would be good old fashioned fish and chips. But in the Maldives, even this austere staple can have an artistic twist.
Amilla Fushi's has taken a page from one of London's top eateries, The Ivy, famous for both its celebrity clientele and for serving luxury fish and chips. The Fish & Chip Shop venue is located in the Baazaar eaterie run by leading Aussie chef and restaurateur Luke Mangan on the resort. They serve favourites such as battered or crumbed cod, haddock and scampi, as well as some of the more exotic local fishermen's 'catch of the day'. Complete with newspaper wrapping (though I hope it is The Times or the International Tribune).
Chic Chippie.