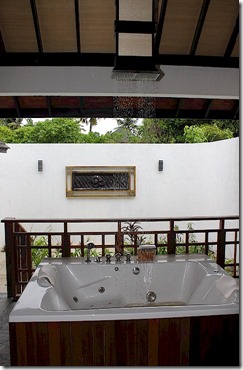 Rain descending from above is not typically a welcome feature of a Maldives stay, except when the rain shower is actually, literally, a "rain SHOWER".
When we first started coming to the Maldives, massage and power showers were the luxury soakers. Shortly thereafter, "rain showers" became the table stakes default for a self-respecting super-premium resort.
Hideaway Beach resort goes even further with their rain shower offering a trifecta of distinction…
Double shower – A double rain shower. No more getting chilly with having to swap in and out of who gets to be under the water. The resort's Ocean Villas also have two person rain showers in their bathrooms.
Likely the "tallest shower" in the Maldives (with it reaching several metres up to the bathroom ceiling),
Tub/Shower combo – Another "

finally seen

" ticked off.