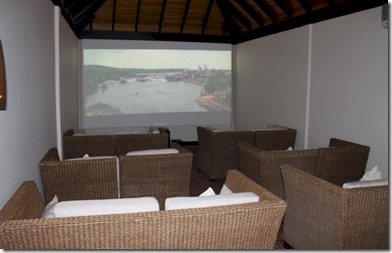 And the Oscar for the best Cinema goes to…JA Manafaru.
About the only thing at our home that provides an idyllic comfort and relaxation on par with the Maldives is nestling down in front of our in-home cinema. When we hit a bit of discretionary income a few years back, we didn't buy a fancy car or boat or second home. We installed a quite sophisticated home cinema – projection screen, THX 7:1 surround sound, and custom seating where we could put our feet up. You always get an ideal seat, you can drink a glass of wine and you can pause it if you need the toilet.
Today's "Best of" gives an Oscar weekend double feature to Manafaru. As it happens, they feature double with two cinema set ups – one in the bar and one in the games area. It includes 10 foot wide screen with HD projection and surround sound.   A number of resorts now have outdoor cinemas where you can still soak up the tropical island vibe while enjoying your favourite flick.  But sometimes a bit of shelter from the elements and a space designed for viewing pleasure is the best cinematic experience.  Also, great inclement weather insurance for your Maldives holiday.