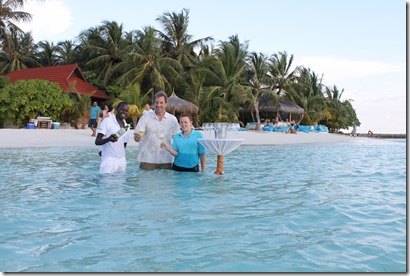 Why sip your red wine by the water, when you can savour it in the water? Immerse yourself in the aquatic paradise that is the Maldives.
I've long pined for more extensive use of the lagoons. With one of the "best" lagoons around, Kurumba has found a way to make more use of it than just sheltered snorkelling and leisurely ocean dips. It offers a weekly lagoon wine tasting hosted by one of the resort sommeliers (above left). They offered a selection of both red and white of some thoroughly enjoyable bottles made more than mouth-watering with its exquisite venue.
I've long mused about what criteria to use to "rate" the resort lagoons (any suggestions?), but I have added yet another new tag for "Lagoon" so people can wade through all of the Maldives Complete pieces on the, well, not so deep subject.