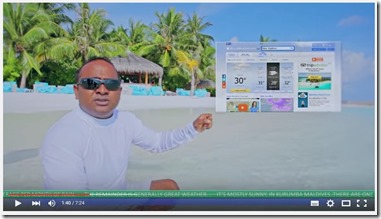 "What a weekend! We have sun, earth, and atmosphere, so we have weather! Not weather, sun, sun, sun, sun, sun!" – Harris K. Telemacher, "LA Story"
In the spirit of Harris K. Telemacher and Brick Tamland, a new addition to one of the great weather comedic broadcasters.
One of the most frequently asked questions by prospective visitors to the Maldives is, "When/where is the best weather?" I've post about periodically myself. The TripAdvisor Maldives Forum has a special FAQ thread about it. But Kurumba decided to really tackle the subject in a fun and informative way on its blockbuster YouTube channel.
"High Pressure systems!… High pressure systems!…" – Brick Tamland, "Anchorman"