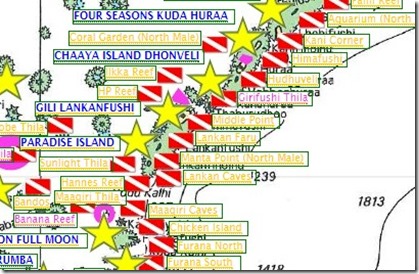 This week I crossed the 1000 dive site mark – 1077 to be precise. Thanks so much to the many dive centres and marine biologists who have helpful shared their knowledge and material with over the past weeks me to allow me to consolidate it into the interactive platform.
I've not just added material, but I've also enhanced a number of aspects of the interface as well.  Especially if you are going to be packed with comprehensive information, you need to make it easy to navigate and access.
For example, the most common layout for dive site maps on the Internet is to number the dive sites, and then place the numbers on the map and then have a key off to the side saying which dive site is which number. If that wasn't challenging enough to have to look up everything, the numbers aren't laid out in any semblance of an order so you are having to hunt and peck to find the location of a specific dive site "Where's Wally" style. The Maldives Complete maps have interactive labels, so a browser search will take you right to the dive site you are seeking amidst the constellation of choices in front of you on the atoll map.
Some of the V2 enhancements include…
Marine Protected Areas – I've added all the Protected Marine Areas highlighting both their areas and dive site labels/links found in the MPAs.
Profile Link – Version Link from Resort Profiles to Dive Site and to Dive Maps
Drill Downs – I've added a number of more drill down sections in atolls where concentration of dive sites in certain areas make it too hard to distinguish them at the default zoom. In particular, there are "region" maps for…
A few more fun stats about the dive site population. First of all, here are the most common dive site "types"…
Thila – 232

Faru – 104

Kandu – 92

Giri – 67

Reef 63

Corner – 56

Point – 32

Channel – 17

Rock – 17

Garden – 13

Wreck – 10

Wall – 5
And just as there are more than one "High Street" in England, there are more than one "Kuda Giris" in the Maldives ocean. Sometimes a popular site name is found in multiple atolls, but sometimes a single atoll will have the exact same dive site name in two places (eg. "Kuda Thila" in the North Male atoll). So make sure you know which one you are going to!). The top favourite dive sites names are…
Coral Garden – 9

Kuda Giri – 8

Kuda Thila – 7

Bodu Thila – 6

Shark Point – 5

Aquarium – 5

Bodu Giri – 5
My 6th Tour of the Maldives is coming up next week (stay tuned for details) and this trip should help me gather up even more material on dive sites across the Maldives, but especially in the two remote atolls I am visiting.