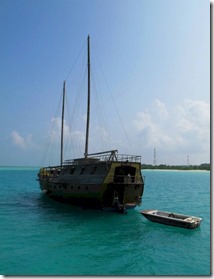 To toast World Oceans Day today, how about venturing onto the ocean itself to raise a glass? Barefoot resort's "Black Pearl" is the Maldives only boat bar serving refreshments floating freely on the water.
Barefoot is situated on an inhabited island which means it is not allowed to serve alcohol on its premises in accordance with the respect for its Islamic co-residents. But most non-Islamic guests welcome a drink as a part of their holiday and so Barefoot has secured an alcohol license for its sailing schooner anchored offshore. The resort provides guests with shuttle services to and from.
The boat is charmingly classic with an eerily resemblance to the TV show Lost's "Black Rock". And if you know the series, then you will know that it is a great place for a blow out and having a blast.