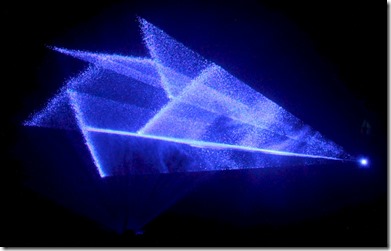 The first functioning laser was operated by Theodore H. Maiman of Hughes Research Laboratories, 45 years ago this week. Since then, its unique optical properties have been applied to everything from cutting to welding back together again. They are use for both scalpel (cutting) as well as suture. It has very profound applications (like producing holograms) as well as some more whimsical ones (eg. creating cat videos for the Internet with laser pointers).
Maafushivaru is celebrating the latter with the introduction of its night time laser light shows…
"This month Maafushivaru is delighted to present its latest addition to spruce up its evening entertainment schedule. With the existing items that range from Maldivian evenings to resident DJ playing classic dance hits and acoustic duo performing while you indulge in a feast, the laser show make its mark as the newest and liveliest of evening entertainment taking it to another level. The spectacle begins at Water Bar, where guests may seat up on bean bags or on the comfy cushions outside the deck to witness a flurry of colours that blend in motion with a selection of music composed by the in-house disc jockey. Witness the Maldivian sky dance in an array of neon green and blue as you imbibe favourite cocktails from the Water Bar. The laser show will be featured once a week after 21:00hrs. Come over and experience this unique show in the Maldives, in Maafushivaru."
Dazzling.