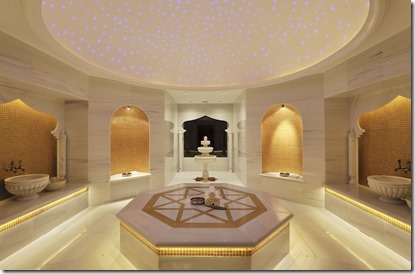 Happy Turkey Day. No, not yet Thanksgiving, but Turkey's national Republic Day. This is the resort Ayada's day. Ayada takes is style and motif inspiration from that vibrant Bosphorus link where east meets west.
One eponymous way to celebrate could be in Ayada's own glittering Turkish bath. You can have an authentic Turkish massage on the central stone slab. Or just melt away in the resplendent sauna which goes up to 50 degrees.
In Turkey, they say "Hamama giren terler." ("he who enters the sauna, sweats"…sort of a version of 'reaping what you sow') but sweating has never been so sweet!