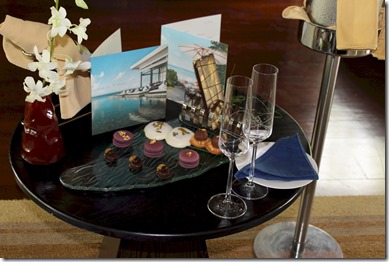 When Jumeirah came to the Maldives a few years ago, I think the expectations were that the two properties (Vittaveli and Dhevanafushi) would be all Dubai bling. Even I held these preconceived notions and was delighted when the properties took a much more subtle approach to Maldives chic with natural and local design inspiration.
Our arrival at Jumeirah Dhevanafushi this summer did indulge us in just a taste of Jumeirah's guilded style, though, with their most distinctive welcome platter. White chocolate with pistachio, velvet macaroons, coffee bean chocs, peanut brittle truffle. And all of these delicacies topped with a hint of gold leaf.
One tick box to a super-premium (5-plus stars) is distinctive welcome treat on arrival at the room (the first and last impressions are so powerful). In general, the "rating" of a resort can be belied by its welcome refreshment…
3 star = nothing
4 = fruit
5 = something prepared
5+ = something special prepared.
Super deluxe is all about those special touches, and Dhevanafushi dazzles with its extra-special golden touch.