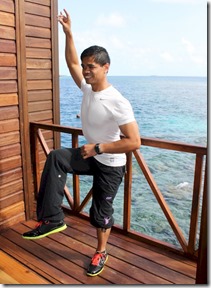 Zumba is a fitness craze that has is just about everywhere now, but in the Maldives it is only at the Jumeirah Dhevanafushi resort. Like a number of aerobic trends, the key to its popularity is injecting a strong dose of fun into the workout so there is less pain with the gain.
Zumba's fun is dance. Dance based fitness which has been sort of the core of aerobics for years (think "Flashdance"). But aerobics always seems like fitness first and dance second…exercise set to music. Zumba is more music first and fitness second. Think musical movement amped up enough to provide some fitness.
Dhevanafushi's exclusive offer is thanks to their spa staffer, Elmer Munar. In fact, Elmer was the first to introduce Zumba to the Maldives offering it for periods at a number of resorts, but now he is resident at Dhevanafushi. He holds classes at their over-water Talise Spa which provides a visual vista as energizing as the music and Elmer's charismatic class leading. No need to wrest yourself away from the ocean to just enjoy a bit of cardio.
Elmer welcomes you with a cold lemonade and scented towel (which I found myself returning to several times during the session). He is licensed Level 2 in 5 of the 7 Zumba styles – Fitness, Sentau, Toning, Kids and Kids Jr. It's like a buffet of Latin dance. Lori and I did cha-cha, salsa, mambo and Cubiya moves with a cool down to the bachaba. All the moves are simple and repetitive to make them easy to pick up. They all can be embellished as you get better. Elmer is clearly an expert and once the class settles into its own groove, he adds a number of flourishes to his own steps providing a bit of extra dazzle and fun to watch.
It's hard to find a bit of dancing in the Maldives. Usually, it's the occasional DJ enlisted for an evening or two. For any one who likes a bit of getting their groove on, Elmer's studio is a must stop.
Fizzness. Fitness with fizz.