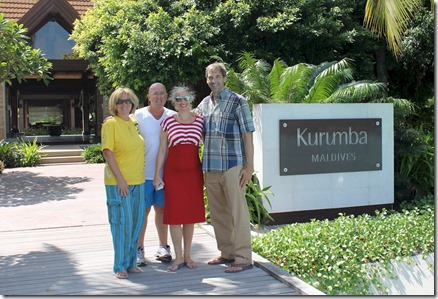 The Cliveden of the Maldives. A grand stately home that has kept up with the times refreshing and reinventing itself to maintain its revered status as a 5-star icon.
With our obsession for discovering new resorts, we have an unofficial policy to avoid repeat visits. Kurumba is like that is the exception to that rule. It is on my short list of all-time favourite Maldive resorts. I never hesitate to recommend it to someone keen to come to the Maldives, wants to enjoy a bit of luxury while here, but is on a budget. For your money you won't find a higher standard room, higher class of service or and you get one of the most vibrant house reef in terms of fish life (coral has a way to go but they are investing in regeneration efforts) that you will find as a bonus.
The perennial question mark over Kurumba is that it is "close to Male". The Maldive purists will say that the ideal island needs to be as far away from civilization as possible. A part of that trepidation is the airport at Male. The sound of the periodic passing plane has never bothered me much. It's not like MLE is LHR so it's not that frequent. And I actually find that the turbo-prop seaplanes occasional buzzing by add an air of mystique to the whole 'remote tropical paradise' vibe. Male proximity is not necessarily a bad thing for first timers especially. Male is itself is an intriguing micro-city and its mini, floating-in-the-ocean skyline has a charm of its own.
Our visit this week was our 4th visit to Kurumba. One might think that over time and repetition, it would get faded and familiar, but on the contrary it just keeps getting better. I'm always keen to see what innovations the GM Jason Kruse (see photo above) has added. Despite all the previous visits as well as 26 "Best of the Maldives" pieces to date, I still came away from my trip with another 7 candidate distinctions.