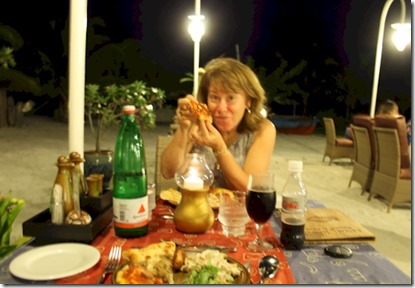 There is little that beats the literal atmosphere of dining outside in the perfect temperature surrounded by a chorus of nature's sounds under a canopy of stars.
When we first started coming to the Maldives, the notion of dining on the beach was relatively novel. Most of the resorts had designated sheltered dining areas. We would typically ask the waiter if we could move our table out to the water's edge and in most cases they were more than happy to do so. Now, beach dining is featured prevalently both as a special supplement experience and as regular dining areas.
Nika has given al fresco dining a fresh setting inspired by the island's Italianate heritage and character. It has situated its main dining area (with a backup inside area for unfavourable weather) in an area that resembles some Mediterranean avenue. It features wrought-iron lamp posts which evokes a sandy Cinque Terra boulevard with people dining on gamberti and chianti late into the evening.
Buon appetito