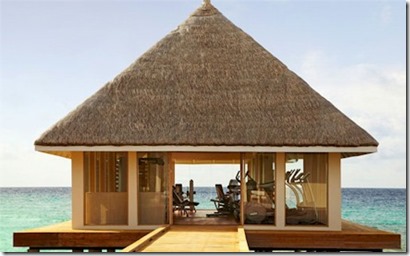 Usually resort fitness centres are stuck away in some remote interior corner. Tearing yourself away from your relaxation for a workout is hard enough that you don't need the resorts to tear you away from the beautiful surroundings to boot. On the contrary, having a vista of paradise to look at would be a great distraction from the tedium.
Viceroy's over water fitness centre's superb design fully exploits the brave move to place it over water with floor to ceiling windows and two large sliding doors to invite even more of the inspiring outdoors into the gymnasium.
Probably my most memorable spa treatment ever (not just in the Maldives) was at Kuramathi's over-water treatment villa open floor to ceiling on 3 sides (including the west side for a bonus sunset view). My dream rejuvenation double would be a hard workout at Viceroy with the ocean breezes wafting through the gym to infuse me with strength, followed by a mellow deep tissue rub-down at Kuramathi with the same breezes soothing me.