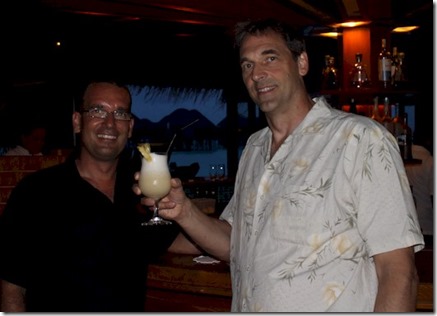 Warning: Brrrrain freeze may result from over enthusiastic appreciation.
One of the most important characteristics in a drink for me is the temperature. I ask for my Starbucks latte's to be made extra hot. And I like my tropical pina coladas to be extra cold. It is always a disappointment sitting in the toasty sun and being served a lukewarm pina colada. The pina colada is my favourite drink when I am in the Maldives and I have had one at every resort I have visited. The quality and presentation varies as much as the resorts themselves.
It might be a bit of a stretch to say that it was the "best" pina colada I had ever had there, but the Constance Halaveli rendition certainly excelled in a one area – coldness. The drink sent shivers down my throat as I sipped it. It also nicely balanced the sweet pineapple juice and coconut milk with a satisfying kick (I worried that maybe the coldness might come from so much ice that the drink would taste watered down).
As it happens, my wife Lori is a fan of ice coffees. Most are lacklustre efforts of simply dowsing some brew over a pile of ice. But Lori too couldn't help being struck that the Halaveli was not just the best she had had in the Maldives, but better than any in London that she frequently samples.
Chillingly good.