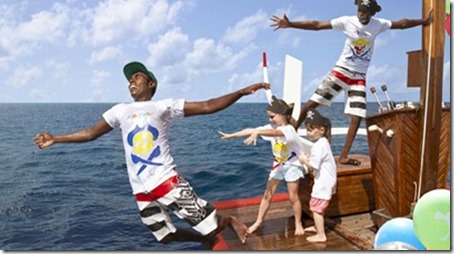 Ahoy there maties!
Happy 'Talk Like a Pirate Day'! And at One & Only Reethi Rah, you can act like a pirate too. Their Kids Club features a "Pirate Cruise" every Wednesday afternoon…
"We take a Maldivian Dhoni and dress it like the Black Pearl Pirate Ship, the Kids Only Guests make their own Pirate hats and T-shirts and we take them on a Cruise around the Island where they can pretend to be Pirates and push our lifeguards into the ocean – there is a special island atmosphere every Wednesday that is for sure."
The tiny plots of sand with a few pond trees that are the Maldives are the very caricature of a pirate island so the setting is complete.
Every Wednesday is "Talk Like a Pirate Day' on Reethi.
Aaaarrrrgggghhhh! Heave ho all the scallywags to Davey Jones' locker!