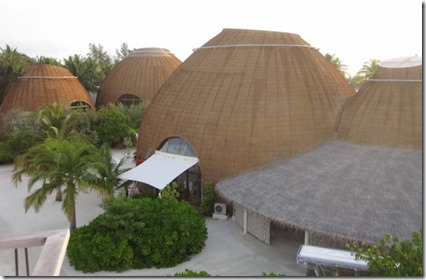 Magic coconuts in the Maldives news this week: "Police summon white magic practitioner to investigate possible cursed coconut" meant to influence yesterday's long awaited elections. Everything seemed to go smoothly and peacefully which hopefully paves the way for the people's voice to settle all of the political controversy of the past year and a half.
For some real coconut magic, though, Kandooma architecture is nuciferally inspired reassembling coconut husks.
These dramatic structures aren't the only soaring design features of the resort which takes extensive advantage of vertical space with not just these massive vaulted ceilings (see photo below), but also tented canopies, a dramatic reception area and a unique tower even.