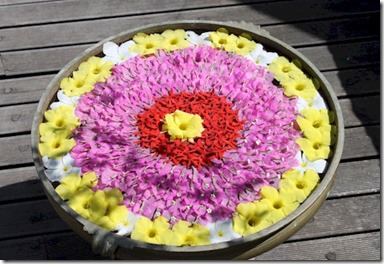 From water walking to water wafting. Of the fragrant bouquets of aquatic bouquets that pack the Nika spa area.
When you first enter the appropriately names Lotus Spa, you are greeted by stereo bowls of dazzling blossoms floating in bowls of water by the gate. Arranged meticulously and artistically is an array of flower petals that are changed every day. Not just the petals, but the design itself (see below for another example).
Then in the spa itself set amidst a sprawling water feature packed with more diverse water lilies and other water flowers than I have seen in the Maldives (see bottom) of different colours and shapes adorning the surface in the bright sunshine.
Nika is just bursting with colour of both fauna and flora.