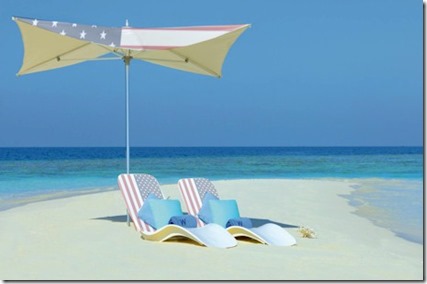 Independence Day! Well, American 'Independence Day'. As it happens, the Maldives celebrate their independence in July as well (on the 26th and also from the British). On this American high-holiday, the place to be is W Retreat.
Americans have always been a bit of a minority visitor group in the Maldives. It's just a bit far to travel (the other side of the world really), when the east coast folks have the tropical delights of the Caribbean on their doorstep and the west coast has the South Pacific. USA was not even in the Top 10 of visitor arrivals (in fact Switzerland and Korea sent more people to the Maldives than the USA) so there are no detailed, published stats for USA alone. But the Ministry of Tourism does breakout arrivals by region including stats for "Americas" of which the vast majority will be from USA. The Ministry reports 162 million 'Americans' visited in 2012 (compared to 534 million Europeans and 232 million Asians). The growth in recent years has been roughly on par with that of other areas showing that the Maldives allure is spreading literally all around the world.
The W Retreat tells me that about 7% of its guests are Americans, which is at least double the average across the country. The Ministry report says that Korea, (the lowest tracked country at #10 in share of arrivals) had 2.5% share in 2012 so USA has to be at least below that.
The American link by the "W" has nothing to do with the former President "George W"'s namesake, but starts with its parent, the Starwood group, one of the leading American hoteliers in the world. Americans are addicted to obscenely high service levels for which the W Retreat is renowned so perhaps that too is part of the appeal.