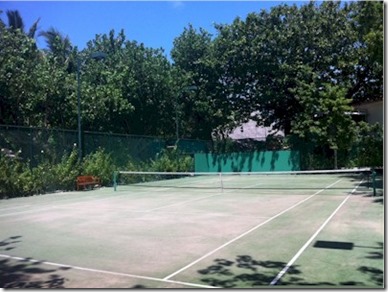 The Grand Slam hits its apogee this week with the start of the Wimbledon Championships. In fact, the opening session had a distinctly Maldivian touch as the headline for the day was "Stunned Nadal Mauled by Shark" (reference to unseeded victor Steve Darcis' love of fish complete with tattoos).
Distinquished by its old school grass courts, I have often wondered why a Maldives resort hasn't added such a posh surface to its resort. But a few top seeds do have a distinctive court surface that is a step in the right direction – astro turf.
The turf has a number of advantages…
Softer so easier on the pounding of legs.

Cooler than asphalt or cement which absorbs and holds the tropical heat more intensely.

Prettier with a gentle texture and colour.
The elite astro-trio astro-trio includes
Conrad Rangali (photo above)

Gili Lankanfushi (photo below)

Zitahli Kudafunafaru
I had to go to a Hawkeye like line judge to figure out the winner. All are floodlit for evening playing. Gili took the first point with the pristine condition of the court which impressed me when I visited it. But Conrad Rangali came back to take the set and match by having a tennis instructor on staff (see picture at bottom) who provides lessons for less than half the price of Gili (and the instructor has to be arranged).
Advantage Rangali!