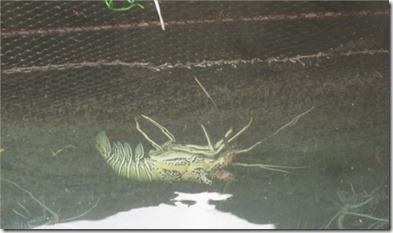 Luxury + Seaside = Lobster
Wherever you place luxury next to the seaside, at the top of the restaurant hierarchy will always be lobster. It pretty much defines the pinnacle of seafood cuisine. Today being Lobster Day, perhaps a few of you with be donning the plastic bib and wielding the nutcrackers and silver picks.
So no surprise that lobster dinners are pervasive throughout the Maldives. Especially since they do live in profusion just metres away and just about any diving or snorkelling excursion will stumble upon one or more hiding under a crevice. But if you don't want to get wet checking out these crustaceans in their native environment, then check out Kandooma's lobster pen. Set in the resort's lagoon by their pier, they have set underwater fencing in an area about the size of a pretty ample swimming pool and they keep their lobsters there. No piles of lobsters crammed on top of each other in a restaurant lobby fish tank. Their final days awaiting their dining table fate is spent in a spacious and natural home environment.
It also means that you can get some pretty big boys into the pen. The specimen in the photo above is about as big as my thigh (and my thigh is not small). And the number to choose form is just as large as we counted several dozen when we sat observing them crawling about.
I've never found any variety of lobster to be as tender and sweet as the famous Maine Lobster from where I grew up, so I don't splurge for these delicacies very often in the Maldives. The most tempting preparations are those dishes prepared with a bit of local and gourmet flair that bring something extra to this exquisite ingredient. Kandooma's luxury restaurant specialises in lobster dishes offering a broad range as well as a very tempting Lobster Gourmand Menu. It also offers a number of lobster dishes as part of its 'Fishermans Market' event held every Wednesday.
Free range lobster!