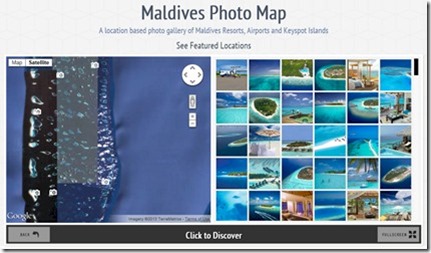 Like the resurgent corals, the vibrant inter-web thingy just gets richer and more colourful every day. When I launched Maldives Complete, there was a really dearth of good, useful information about the resorts. The resorts themselves had weak and limited websites. Nowadays, things are much more sophisticated.
Probably my second favourite Maldives website, after Maldives Complete, is Sakis Papadopolous' 'Dreaming of Maldives'. Just as I started with an anchor of a comprehensive database, Sakis' starts with simply the best collection of images on the Maldives around. But like Maldives Complete, he hasn't rested there and has branched into a range of other areas. His section on families, "The child-friendly Resorts in Maldives, all the Kids-clubs,' remains one of the most comprehensive reviews of resorts on the Maldives. He has started to move into videos with dazzling results. And his latest innovative addition is this 'Maldives Photo Map'.
When I first launched Maldives Complete, one of the fun bits I added was the DeepZoom control of the British Admiralty Maps of the country. As I launched it, you can zoom into the charts to exacting detail. I had fantasized about pushing this party trick even further. I had pictures for both aerial shots of the island and prominent features like the swimming pool. I had thought that once one zoomed into an island, you would see an aerial photo (see directly below). And if you zoomed in on the photo, then it would take you to a shot of the pool (see bottom). A bit like a Russian doll photographic drill down reminiscent of the second half of the iconic film, 'Powers of Ten'.
In the end, I didn't see a lot of traffic on my interactive map and Microsoft never really developed the Deep Zoom technology much. Its editing tool, Deep Zoom Composer, remained klunky and incomplete. So I decided it would be too much work to add these extra layers of images. Also, soon the Google and Bings maps caught up on the imagery and so the aerial shots were pretty good. And now Sakis has taken the final step of allowing you to zoom even closer into gorgeous shots of island highlights.