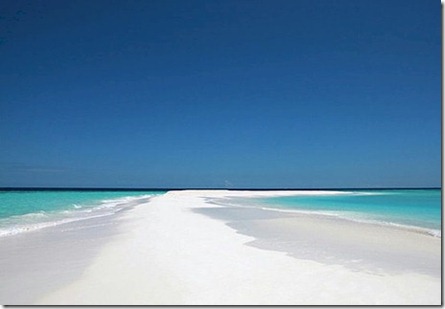 When I need to describe the Maldives to people unfamiliar with them, I say "You know those pictures of a deserted tropical island of a plot of sand in the ocean with a palm tree in the middle?…that's the Maldives." But, the even more secluded, minimalist isolation comes from such plots…sans palm trees. The sandbanks.
The ultimate on open space bounty comes courtesy of Francisco Negrin, one of most helpful correspondents, who recently returned from Six Senses Laamu…
"A real, and beautiful sand bank with maafushivaru type sand as per your description and a stunning reef around it. And you can swim or kayak to it from the main island in just a few minutes. No need of a boat , no sea planes landing next to it etc etc.. And you can book it to have it to yourself too."
Discovery of a treasured isle…in Laamu's aquatic backyard.