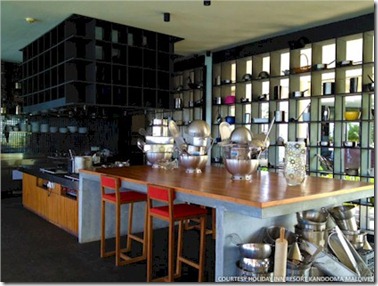 For those who like to get close to the cooking in action, but without actually getting their hands dirty, the 'Chef's Table' is an intimate way to savour the smells and action of a vibrant kitchen operation. Increasingly, top restaurants are exposing their kitchens rather than sequestering them out in some back room separated from diners with some swinging doors made for comedy collisions. Now, expansive set-up counters expose the chopping, a stirring and flame-fired cooking a short glance away from your table.
Kandooma has an actual proper Chef's Table set in the kitchen itself. It's not just a front-row, court-side seat, but the whole ambience of the meal changes. You are less of a spectator and more of a participant (but without the hustling and dirty work). The chef's come over and chat and sometimes show or share something they are working on.
I didn't get to do the Chef's Table during our visit, but I did have the treat of one at Gordon Ramsay's at Claridges Hotel a few years back and it was a whole different dining experience. Kandooma can seat up to 14 and like most chef's table, the menu is quite customised to your particular interests.