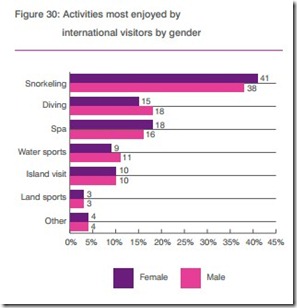 The votes are in! And, standing on a platform of dazzling views and enchanting creatures, the winner is 'Snorkelling'.
In a recent "Maldives Visitor Survey 2011", Snorkelling was listed as the 'Activity Most Enjoyed' by a landslide with 40% of the votes. People often think of the Maldives as a dive haven, and certainly the two are related, but Snorkeling was cited nearly twice a highly as Diving (17%…which was the #2 activity).
A landslide vote of confidence for the greatest snorkelling on Earth.