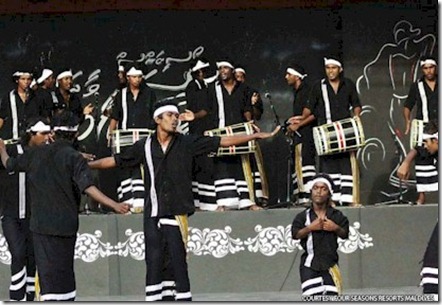 The Olympics are always a chance to get acquainted with less familiar sports. The 2012 Games event that I saw was Synchronised Swimming which is not a programme on my record favourites at home. The Paralympics this week takes this introduction to even more varied competitions like 'Goal Ball'.
The Maldives is pioneering some its own competitive spirit this month in the highly physical and talent demanding Boduberu Drumming sponsored by the Four Seasons. The Four Seasons are becoming a bit of champion for local competition having also promoted the Four Seasons Maldives Surfing Champions Trophy 2012 earlier in the year.
Minivan News reported on the event…
"Beyond its significance for the holiday industry, a number of young people and cultural organisations, boduberu is serious business – not least for for the eight teams that on Saturday (September 1) night contested in this year's Four Seasons Saqaafee Vaadha tournament on the island of Kamadhoo. Held barely five minutes by speedboat from one of Baa Atoll's most high-profile resorts, the tournament saw teams representing the islands of Kendhoo, Kurendhoo, Holhudhoo, Kudafari, Dhivaafaru, Meedhoo, Madduvary and Rasmaadhoo competed for a grand prize of MVR100,000 to help fund development projects for their respective local communities. A further MVR 10,000 in prize money was also provided to be shared amongst the winning team's members. The competition, organised in association with the Four Seasons resort group and local cultural organisations, was televised live across the nation with a team from the island of Rasmaadhoo being crowned the overall winners, based on the views of a four member panel of judges."
Culture has been part of the Olympic since it started. The Opening and Closing Ceremonies are themselves major extravaganzas of music, dance, theatre, drama, sculpture, performance art and more. Also, since the Olympics last graced England in 1948, a 'Cultural Olympiad' has accompanied the festivities to further celebrate and promote the aesthetes with the athletes.
Events like the Boduberu competition aren't that far removed from other 'judged' events (eg. Diving, Gymnastic, Syncronised Swimming, Dressage) that score equally as importantly for 'Artistry' as 'Technical' proficiency.