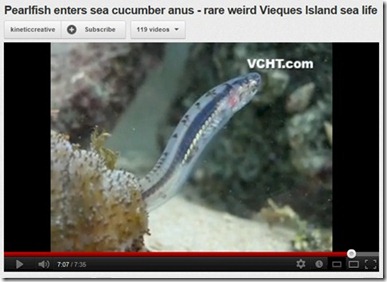 For the first time ever, Lori and I did an excursion to a 'local island'. Staple fare on the resort excursion buffet, but one we had shied away from like miso soup for breakfast. But LUX* Maldives included it as a refreshment stop on their whale watch trip so we went along. It was all very nice to get a glimpse of the more quotidian side of Maldives life. Nothing too dramatically interesting. A more rural version of the types of sites you see in Male – souvenir shops, mosques, concrete open-air dwellings.
As part of the trip we toured the local school. And there I learned something just a bit disturbing that I might be better off not knowing. Naturally, Maldivian children invest a fair amount of study in the subject of marine biology. One of the classrooms was festooned with posters crafted by the students to highlight various fun facts about marine life. Except one. Which was not so fun…
"PEARL FISH – lives in anus of sea cucumber and if it doesn't get enough nutrients, it eats the sea cucumber's gonads"
I am thankful for many things in life, but after my trip to Dhigurah, I am especially grateful that I am not a sea cucumber (pretty happy not to be a Pearl Fish either).