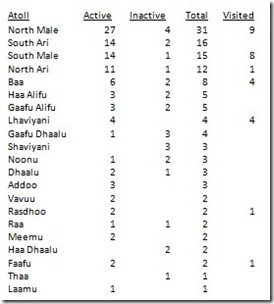 Friday 13th is my lucky day. I'm on my way to the Maldives for 'Tour' #3 and trip #10.
South Ari is the atoll with the 2nd highest number of resorts, but I have never visited there. This week's trip will take me to 8 further ones there (as well as 2 new ones in North Male atoll). South Ari is renowned for its whale sharks and we are hoping to spot one of these stunning creatures. At least, we have a whale shark lecture booked at LUX Maldives.
Perhaps a bit of my father's son. My Dad has been to 48 states and has decided in his seventies to complete the set. He only recently visited North and South Dakota, and in the autumn my parents have a trip to Mississippi and Alabama to tick off the final two. I've decided that I will take it as my life's mission to visit every one of the Maldives resorts. There are 99 active ones (with 27 more offline or coming online) and I will have made it to 36 after this trip.
Off we go into the very blue yonder.