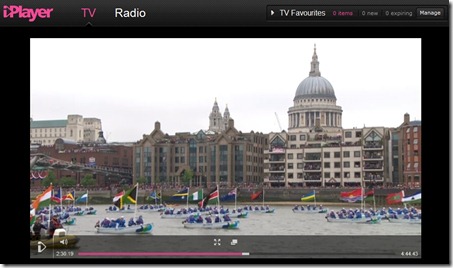 Hip-hip hooray! Hip-hip hooray! Hip-hip hooray!
Three cheers for the Queen and all those who contributed to making her Diamond Jubilee Procession the biggest aquatic event in the world. Something the UK shares with the Maldives is being an island nation whose culture and history is defined by its intimate and powerful relationship with the sea. And celebrating 60 Years of service by Queen Elizabeth was the historic, world-record setting flotilla which included a bit of the Maldives itself. The British Sea Cadets provided their own little armada of boats each sporting a flag from a Commonwealth country. You can see the Maldive colours flying at the front of the pack in the freeze of the iPlayer recording of the day's proceedings (see clip above paused at minute 2:30.19. For those of you who can't get BBC iPlayer as it is not available in all countries, here are some great TV reports of the Procession by Sky and CBS).
Also, below is a snap from Flickr where you can see the Maldives flag right in the middle of the picture.
Congratulations to the Queens. Long may her grace and steadfastness reign!