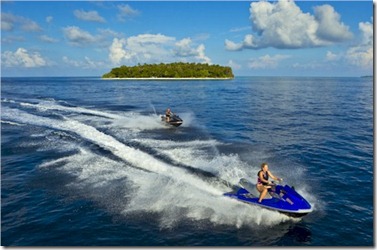 Your voyage to a deserted island doesn't have to be on a seventeenth century tall ship. At Kurumba, you can zip over on the latest jet skis. With the revamp of their new Extreme Maldives watersports centre, they have introduced the Maldives first jet ski safari…
"Jetski Safari, which is the first in the Maldives, has been developed exclusively for Kurumba guests. This tour takes an environmentally friendly approach to jet skiing – using the latest craft with low emissions and noise levels, without disturbing the tranquillity of the ocean's natural beauty. This experience will bring new level of fun while navigating some of the Maldives Islands and snorkelling on its magical reefs. This is an island hopping jet ski tour at a contained speed that is interpretive, respects the environment and allows for a new perspective in seeing the Maldives. It allows guests a sense of adventure with an experienced guide as well as allowing guest to snorkel on a remote reef and see other Islands in the Maldives."
During the safari, guests can find special banks and remote reefs to visit or snorkel. The excursion includes a guide to both make sure everything goes smoothly, help in case of any difficulties and show you the best spots to visit.
Our family regularly jet skis when we visit my wife's sister who lives by the ocean in North Carolina. They are loads of fun. A number of Maldives aficionados protest the sound they (and other motorised water sports) make disturbing the ildyllic tranquillity that draw so many to the destination in the first place. The safari is also a plus to them because it takes the guests on their buzzing boats (though Kurumba has brought the latest models that have the lowest noise) far away from the resort island itself to places where no people are.
A 90 minute excursion for 2 people costs $300.
Rev your engines for adventure.