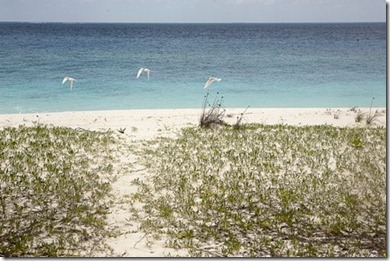 "Thus we never see the true State of our Condition, till it is illustrated to us by its Contraries; nor know how to value what we enjoy, but by the want of it." – Daniel Defoe, Robinson Crusoe
This week (25 April 1719) marks the publication of the classic by Daniel Defoe, 'Robinson Crusoe', whose story epitomises idyllic, simple living on remote island paradise. Though set in the South Pacific, the story's imagery pervades the Maldives with many resorts offering 'Robinson Crusoe' experiences and adopting the namesake. Such as the 'Robinson Villa' at Soneva Fushi and even the 'Robinson Club' resort itself.
And if the resorts themselves don't offer enough isolated wonders of seclusion for you, most offer a 'Robinson Crusoe' excursion which take you to a deserted island all to yourself several hours or even a whole day. One of Lori's and my favourite experiences was one of these outings when we stayed at Filitheyo and took the trip to Hamza island for the day (see pix below).
Again, I turned to leading authority on all things Maldivian resorts, Adrian Neville, to determine a top recommendation in this area and he called out was the island offered by Coco Palm Dhuni Kolhu…
"As to Medhufinolhu, what makes it so good is that it is very small but not too small, so it can feel like 'yours'. It has decent vegetation and a lovely beach. It is out of sight and sound. Crucially, it has just one building – a hut made of wood and thatch, with a simple shower behind. In front is a table and chairs, made of found wood and coir rope. This is the best I have come across for that mythical Robinson Crusoe experience. And not just me it would seem. It is so popular that during much of the year it is used twice a day. One couple during the day and one couple at night. And I got this beautiful picture. The island was pristine enough to have these terns lay their eggs on the beach. And then they bombed me as I approached."

I've already highlighted Medhufinolhu as a top Overnight Escape (Coco Palm is one of a few resorts to offer an overnight option), but it is just as spectacular for day visits too worthy of a second shout out.