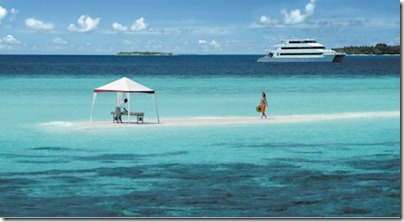 I'm loving this beach relaxation run this week. And just when you thought you couldn't get more relaxed on a stretch of sand, up steps the Four Seasons with their Sandbank Massage.
The excursion is limited to guests their of Four Seasons Explorer yacht.
"Guests can have their treatment on board Four Seasons Explorer or on a sandbank nearby where the boat anchors. The sandbank location really depends on the route the boat is taking hence it is not always the same one. The guest will be dropped off with the therapist on the sandbank to enjoy the treatment in privacy."
Full range of treatments from the signature 'Kuda Huraa Massage' ("A blend of specialised techniques from all over Asia – Thai pressure point, Filipino hilot, Malaysian urut") to the 'Sun Soother' ("Hydrating and cooling fresh aloe vera gel, toning lavender mist, and lavender lotion are featured in this tropical wrap"). Prices range from $140 for 60 minutes to $225 for 120.