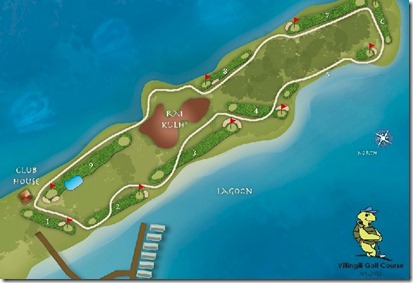 Well, it's about time.
As I've discussed before, the absence of a proper scale golf course is one of (if not *the*) major inhibitor to prospective high visitors to the Maldives. Today, Shangri-La Viligili has plugged that gap opening the first full sized (well short par 3s…more of an 'Executive' course, but bigger than the Kuredu pitch-and-putt) golf course in the Maldives. Minivan reports…
"The nine hole course sits on seven-and-a-half hectares of previously undeveloped land at the southern end of Villingili Island. Most holes par three and average 123.4 yards in length, and are set amongst the island's natural veggetation including of palms, pandanus and other tropical plants. The course includes a clubhouse, refreshment bar and a pro shop. 'It's a recreational course, not a professional course,' explained Shangri-La's Assistant Communications Manager, Cristina Acenas. 'It is accessible to beginners but advanced golfers will also enjoy it.'"
It might not end there if the plans for a fully engineered 'floating course' with underwater connections comes to light…
Well played, Shangri-La.