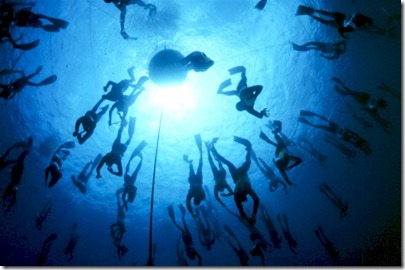 Not 'Free Diving' as in 'Free Beer'. 'Free' as in free of any artificial aids.
A bit of a crazy and often quite dangerous sport. Its practice has been reigned in over recent years after some fatalities. But now the sport is more restrained and even more meticulous about safe practices and limits.
Six Senses Laamu is featuring iconic world champion diver Umberto Palazarri in a special programme this week which offers a rare, up close glimpse of this extreme sport…
"Hot on the heels of hosting a memorable inaugural Water/Wo/Men event attracting the biggest names in watersports and water conservation, Six Senses Laamu is delighted to host a week of free diving activities by iconic world champion diver Umberto Palazarri…Umberto will host daily free diving clinics teaching them the unique techniques of free diving and explorative dives around the beautiful coral reefs surrounding Six Senses Laamu. In the evening he will host dinner talks at LEAF where he will give talks on his dives and discoveries."
I've regularly try just taking a plunge down a bit deeper when I am snorkelling in order to see something a bit close. Pretty much as soon as my body is inverted, my eyes and sinuses start to ache feeling the extra water pressure just a couple metres down. It always fascinated me when the locals and dive masters could descend several metres at will. How Umberto plummets to the bottom of the ocean is beyond me.
Sakis also features some cool videos on the event and free diving in his post on the week.