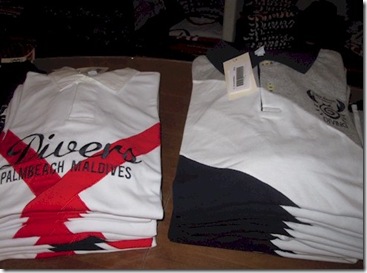 Today is the biggest shopping day of the year in the world It is the biggest shopping day in the biggest consumer economy in the world. 'Black Friday' as in dubbed. 'Black' as in both 'in the black' (like the stores P&L's expect to be at the end, and 'black' as in horrendously frenetic.
My wife has a ritual of buying a t-shirt from every dive centre that she has dived from. Some are basic and some are better. As I have previously written, one of my pet peeves is when resorts don't have nice t-shirts for sale. The pedestrian white shirts with dodgy appliqué graphics of fish just don't do it for me. Get some decent cotton, a subtle colour and do some subtle styling.
That is what the Palm Beach Dive Centre has done. Not surprising with the Italian characteristic flair for style. They had the most extensive array of tops we have ever come upon in the Maldives. All with appealing colours. All of the decoration is embroidered tastefully.
You may not think of the Maldives for holiday shopping any more than you would think of Target for romance, but this MSNBC report dispels that myth as well.
Happy Shopping!