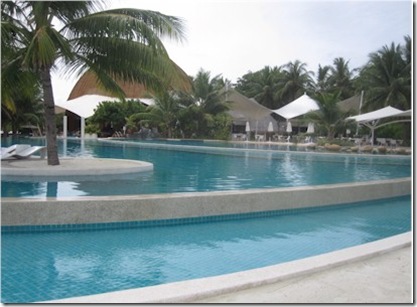 As I have written before, I was originally going to call Maldives Complete by the name of 'Maldives For Families'. There were so many websites heralding it as a destination for romance/honeymoon or diving, but I always thought of it as an outstanding place for children (eg. calm water, bounded area, no motor vehicles, caring culture). Fortunately, more and more resorts are specifically catering to children with excellent kids clubs and a range of other creative offerings like Rangali's 'Ice Cream Spa' and Naladhu's Storytelling.
One of the most prominent aspects that struck me about Kandooma was its excellent suitability for children of pre-school age, namely 2-6. Less than 2 years old and Bandos has a special service catering for them. Over 6 years old, kids start to snorkel and Kandooma has limited snorkelling. But in between, Kandooma is their paradise.
The resort is geared up in a very friendly way to start with. They have a big kids club. They have lots of family villas. Both villas that interconnect and villas designed to accommodate 4 or more. There are 6 units that accommodate 6 people. Two separate bedrooms and comfortable lounges that convert to beds in the living area. Could do 7 in a pinch. Also, could do 2 couples with the kids in the living room.  They are not the only family villas in the Maldives, but probably the best value.
Another big bonus is that kids under 12 eat free under in any restaurant. Their main restaurant is charming with tasty (not gourmet) food. They do have a seaside restaurant that specialises in lobster if Mom and Dad want a treat). In fact, Kandooma has just enough 5* touches to make Mom and Dad feel like they are having a treat, but not so fancy that Mom and Dad have to feel self-conscious about their young ones scampering about.
And that atmosphere is another big tick. Lots of resorts welcome children, but fewer actually have an ambiance that bubbles over with juvenile frolicking. Kandooma has that buoyant energy especially around its mammoth pool (see above). I'm still researching, but I think it covers more surface area than any in the Maldives. I emphasize surface area, because in volume it is quite modest with its pervasively shallow depth (about a metre). Just perfect young ones. It's right next to the main restaurant so kids can get more splash time in while Mom and Dad linger over a meal.