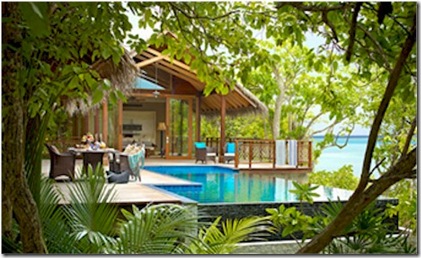 Alternative title – 'A Room With a View' in the Venice of the tropics
New York is what the Maldives would be…in 'Opposite Land.'
I am visiting New York City this week for business and I keep getting struck by the polar contrasts with my beloved Maldives…
| | |
| --- | --- |
| New York City | Maldives |
| Noise | Quiet |
| Bustle | Indolence |
| Tall | Flat |
| Concrete | Water |
| Artificial | Natural |
Obviously, one of the starkest contrasts is the elevation. Not of the land, but the structures. For the longest time, nearly all resort buildings were single story structures. As the resorts are getting bigger and fancier and wanting to exploit the most from their extremely limited real estate footprint, Maldives resorts are starting to move upwards. I don't think we will see skyscrapers anytime soon (the Jumeirah's two new resorts are staying close to the ground with no dhoni-inspired high rises on the drawing boards).
While the beach hut traditionalists might disagree, I quite enjoy the tastefully designed, slightly elevated structures on some of the islands. Much as I enjoy gazing out at the ocean's horizon at beach level, being a bit higher provides more perspective especially on the dazzling colours and patterns created by the underwater topology.
For those urbanites who prefer living in elevated quarters, Shangri-La Villingili offers Tree House Villas…
"With marvellous views of the ocean, Tree House Villas are secluded, private island hideaways. Perched on stilts among the treetops, amidst dense vegetation, these luxury accommodations provide guests with a memorable stay in a tropical tree house. At this elevation, privacy is assured as the beautiful, panoramic views unfold like a living canvas of sparkling surf, languid lagoons and verdant vegetation that is home to colourful indigenous bird life."
Enjoy the view!