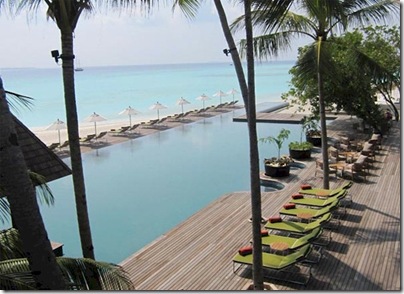 Winner of the 'Newest Resort' award goes to Anantara Kihavah which opened this past week. Unfortunately, especially the way Maldives development is going, such a recognition is fleeting at best. So I have had a run through of some of the early glimpses from this glittering new addition for a more enduring accolade.
Actually, a number of innovations and designs have caught my eye and are likely fodder for future posts. The 'Sky-Fire-Salt-Sea' restaurant/bar/deck is a creative and ambitious concept with both underwater venue and elevated roof deck. High and low. Unfortunately, this part is about the one piece left not quite finished (it is due to be completed in mid-March). Francisco Negrin is there as this very moment so I await his accounts.
In the meantime, let's start with something simple. A distinctive that does stand out which is their pool length…
"At 49 metres, Manzaru pool bar boasts the longest swimming pool in the Maldives and Sunshine Butlers are always on hand with fruit skewers and cold face towels to cool sunbathers down. Casual lunches of crisp salads and traditional pastas are served poolside."
So if doing your morning laps gets tedious in typically diminutive hotel pools, then consider Kihavah.