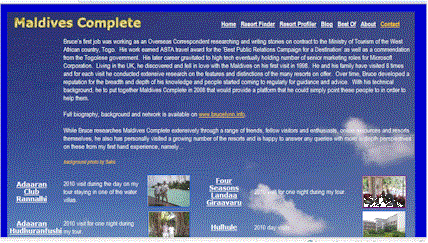 A lot of folks are connecting up with me by email and on our Facebook page. I appreciate all the kind words of support and endorsement. In the About page, I did a bit of a credits page about the various helpers who assisted in getting Maldives Complete on the web, but I neglected to mention anything about the webmaster himself (ie. me).
Furthermore, my visits to the Maldives now numbers 17 different resorts and so I thought it would be helpful to share precisely which ones (and 'when' as things change quite a bit over time) for people particularly interested in deeper details on those for which I do have first hand information. I've assembled the list and a snapshot from each trip as well as a potted history of my background in a Bio page here.
Finally, the background to this new page is a photograph from my all time favourite photographer of the Maldives, Sakis Papadopoulos. Sakis has kindly shared a collection of his photographs for my use on the site and over time I plan to migrate most of the site graphics to those from Sakis.