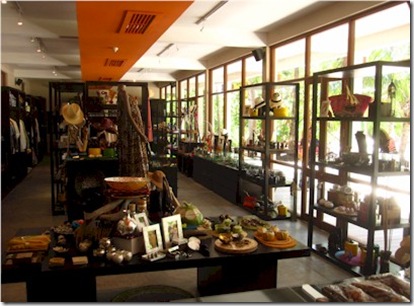 Last chance for Christmas shopping today!
We traditionally spend our family Christmas Eve going into the big metropolis of London for a bit of last minute shopping. Picking up stocking stuffers, treats for Christmas day and meal, and just soaking up the Yuletide atmosphere. Actually, it is a great day for shopping because the crowds are tapering off. Many folks are now travelling to far flung families or getting their homes ready. We found this out when one year, in a particularly frenetic advent, we had not made it by for the kids to see Santa. So we went into Harrods (between Selfridges the two best grottoes in London) and were delighted and astonished to find that the often 2-3 hour queue was only 30 minutes on Christmas Eve.
If you have left your Maldivian Christmas shopping to the last minute, the Harrods of the Maldives has to be Four Seasons Landaa Giraavaru's gift shop. While many boutiques are little more than closets stuffed with conventional stuff you find at the airport, Landaa's is 35 metres long packed with high quality and extensive variety product.
Best of all, Landaa's gift shop sold some of the best t-shirts we have found in the Maldives. Poor (or worse yet, no) t-shirts is a real pet peeve of mine when I travel (as I note in my recent tour wrap up). The Fours Seasons shirts were high quality cotton, enticing colours (white is boring) and subtle but classy embroidered graphic.
Merry Christmas everyone! May Santa bring you lots of Maldive holiday vouchers!